Topic Ideas Generator
Topic Ideas Generator can be found on the menu bar.
By writing your target keyword, you will get instant results for the main topics and subtopics that have been discussed in the first page in Google, so you can cover it in your content very easily.
It supports 12 languages besides the number of topics and sub topics is different from one plan to another as it starts from 5 results per keyword from the starter plan etc.

Once you have clicked on the Topic Ideas Generator tab, you will be directed to this page.

You will be prompted to enter your keywords in the search bar.

You will then need to enter your desired language.If you click on the arrow pointing down, you will see a drop-down menu with the languages available.

Once you have entered the keywords and your desired language, you will need to click the generate button.

Once you have clicked generate, you will be provided with topic ideas from the keywords you entered.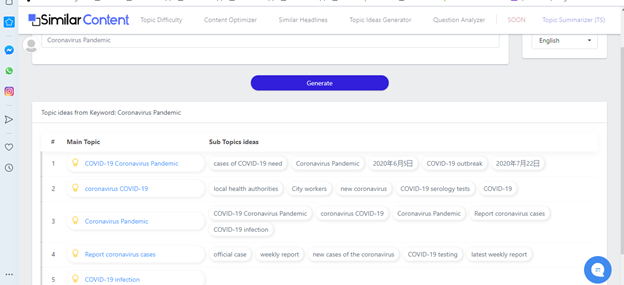 You will see that there are a number of main topic ideas listed.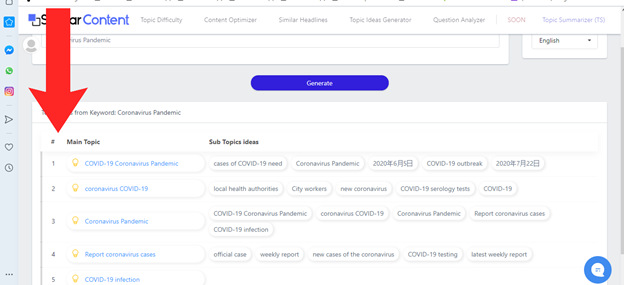 You will also see there are sub topic ideas listed for each main topic.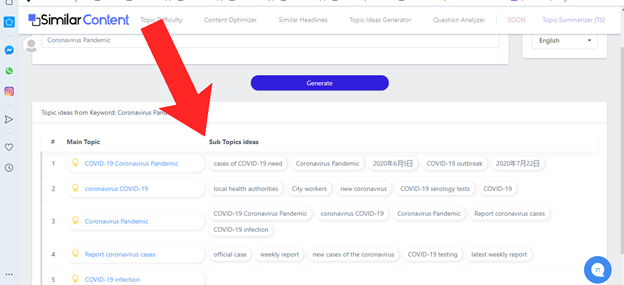 If you have any questions about using the topic ideas generator, you can click on the blue button on the bottom of the page.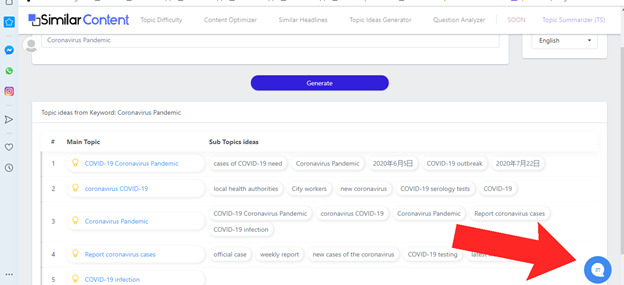 Once you click this blue button, a message page will pop up. This will allow you to send a message to the SimilarContent Pro team. The team aims to answer any inquiry within one day.